"Our interest in the Simmental breed developed because of the youth program. I had heard from one of our neighbors, Albert O'Connor (a former AJSA President) that there was going to be a Summer Classic held in Louisville during the summer of 1986. So, the boys each got a Simmental heifer and got them ready to go tothe Classic. That year, we redefined the term 'rookie' because we knew absolutely nothing about showing cattle. I took Barbara and the boys down to Louisville, unloaded them and the heifers, returned home to work at my dental practice for a few days, and came back for show day." states John Harker.
"That's what got us started," he continued. "We had no idea what kind of educational things happened at the Classic. We thought it was just a little old cattle show." Two American Junior Simmental Association Classic Champion Females, one National Western Grand Champion Bull, one National Western Grand Champion Female and twenty years later, John, Barbara, Ben & Dan are still raising Simmental cattle in the small town of Hope, Indiana. The operation started in 1985 with the purchase of two show heifers. It was initially started as a program where the boys could accumulate a few cattle to pay for their college education. John recalls a conversation with Knic Overpeck at one of the previous AJSA Classics. He said, 'you should always go with quality and breed from there.' It took the Harkers a few years to fully realize the significance of that statement.
By 1994, they had far exceeded their goal. Their herd consisted of 50 head of Simmental brood cows and they had established a quality embryo transfer program. ER Red Informer was purchased sight unseen from Barry Emmons in Olive, Montana. Red Informer was initially purchased as a cleanup bull, but the Harkers were so impressed with the bull, that they decided to show him. By January of 1995, Red Informer had been named the Grand Champion Bull at the 1994 Simmental Sweepstakes, the 1994 North American and the 1995 NationalWestern Stock Show. The show ring success didn't stop after Red Informer. In April of 1995, Danny purchased a female sight unseen from the former Leachman Cattle Company. Leachman Red Baldy D7057 went on to become the Champion female at the 1995 American Jr. Simmental Association Classic, the 1995 Simmental Breeders Sweepstakes, the 1995 North American, and the 1996 National Western Stock Show. Again, in the summer of 1996, Danny won the AJSA Classic for back to back championships with another sight unseen purchase from Leachmans.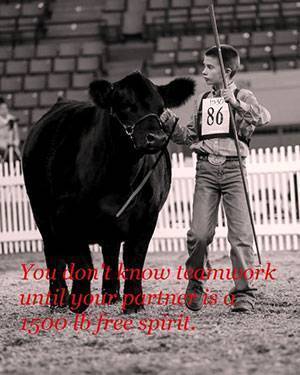 In 1997, Dan married Jill Sommers, a seventh generation Angus breeder and former National Jr. Angus Association Board member. With such a strong commitment to family values and history, the Harker's purchased their first Angus females. This led to the development of half blood Simmental/Angus females and the beginning of a new division of Harker Simmentals.
The operation has continued to grow and change since the 1990's. Substance, structural soundness and quality EPDs with an emphasis on maternal characteristics are a few things the Harker's use as building tools. Today, the operation consists of 150 head of purebred and percentage Simmental females and purebred Black Angus females. Annually, breeding quality bulls are marketed through a cooperator program in South Dakota while the maternal, fancy heifer calves are auctioned through the Field of Dreams sale now held at the Harker's farm. Females purchased through the Field of Dreams sale are exhibited by juniors from across the country.
The newest members of the Harker Family, Luke & Chase, hope to someday follow in their grandparents and parents footsteps – by breeding, raising, exhibiting and selling quality Simmental and Angus cattle and continue the program for at least another twenty years.
Harker Simmentals est 1984